Culinaromancer's GlovesEdit
Culinaromancer's gloves, are gloves from the Runescape quest "Recipe For Disaster."
They Can be bought by talking to the "Oracle of Dawn" at home (Edgeville) > [Shops] > [More] > [Jewlery].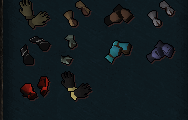 On Corruption X, They have the same requirements as Runescape except for the actual quest doing. By completing ALL combat and non-combat skill requirements listed below, a player may unlock these gloves. Culinaromancer's gloves ARE UNTRADABLE with players, but CAN BE SOLD back to the oracle after buying.
The Culinaromancer's gloves all have different numbers and colours that resemble actual Runescape armor progression in order of weakest to strongest for defence and attack bonuses.
Note: Although Culinaromancer's gloves 10 appear similar to Barrows equipment, the gloves aren't part of any Barrows set and do not degrade over time.
Culinaromancer's Gloves BonusesEdit
These are the equipment stat bonuses for Culinaromancer's Gloves 1 to 10 [IN NUMERICAL ORDER]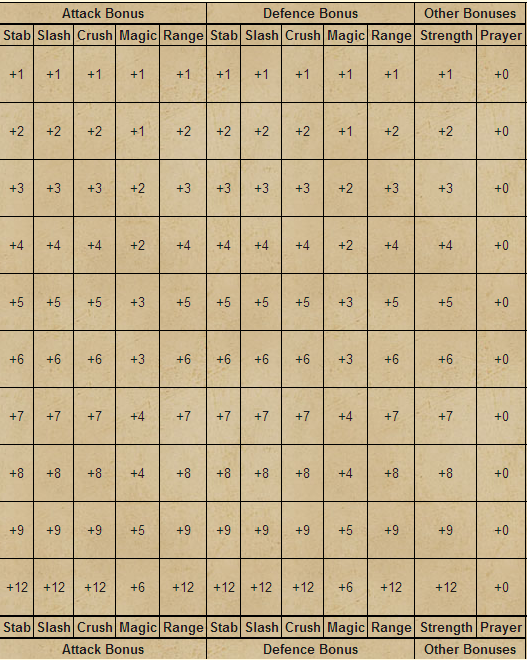 Requirements To Equip The GlovesEdit
To wear ALL GLOVES
[EXCEPT Culinaromancer's Gloves 1]
You will need...

- 70

Cooking
- 59

Magic
- 53 

Thieving
- 53

Fishing
- 52

Mining
- 50

Crafting
- 50

Firemaking
- 50

Woodcutting
- 48

Agility
- 40

Ranged
- 45

Herblore
- 10

Fletching
- 10

Slayer
- 40

Smithing

The gloves also have defence level requirements.
Basic: 1


Bronze: 1


Iron: 1


Steel: 1


Black: 1


Mithril: 1


Adamant: 1


Rune: 13


Dragon: 35


Barrows: 35

Gloves of each tier can be bought from Oracle of dawn in edgeville [shops - jewellery ]
or from the chest in the basement of Lumbridge castle
The basement can be accessed by using the trapdoor in the kitchen.