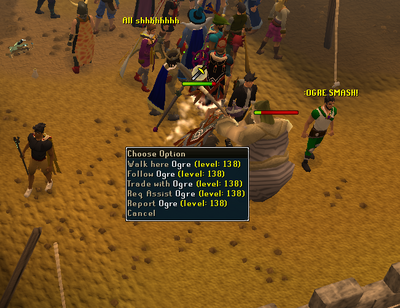 Ogre, more commonly known as Terry is a Corruptionx/Matrix II Global moderator. Ogre is credited with single handedly destroy the facist Lord Farquaad and his army along with his sidekick donkey Asdorange in order to save his Ogre wife. His later years would be be affected by constant controversy surrounding domestic abuse at a public event as well as claims of homosexual incest.
Campaign and War against Lord Farquaads nation of Farquaadlia (1939-1945)
Edit
Well known dictator Lord Farquaad and the Farquaadian army had invaded New Zealand in December 1939, with the sole objective of genocide of the Pukeko. After the surrender of New Zealand in January 1940, Ogre had begun organizing a rebellion to save the Pukeko's, Ogre's plan was to lure Lord Farquuads army into Eden Park and the Westpac Stadium then eliminate his enemies by trapping them in and making them listen to Nickelback records, X-factor contestants took part by performing live during the rebellion.
Domestic Abuse allegations and Lawsuits (2013)
Edit
At a public event Ogre and his wife Fiona had got into an arguement; standby'ers reported that the arguement ensued after Fion had eaten the last of the chicken in their KFC bucket. Causing Ogre to punch his wife several times in the face. Weeks after his wife had taken to him to court, gained custody of their children and filed for divorce. Ogre has been seen with Whoopi Goldberg and are currently dating.