Getting there
Edit
To get there, Visit the Oracle and go to the dungeon section and go to God Wars dungeon. When teleported, all you need to do is move past the boulder and follow the path to the huge hold in which you must climb down. Once you're down you need kill-count. Kill goblins because they're the easiest and most efficient NPC's to kill. You need a hammer in your tool-belt in order to get into the Bandos only Creature area. Follow the path until you get the the boss room's door.
Killcount

Edit
The following kill-count is required to access the boss rooms.
9 kills - Extreme
10 kills - Regular Donator
15 kills - Non-Donator/Normal player
Recommended gear & setup
Edit
| Slot | Item |
| --- | --- |
| Head | Torva full helm > Helm of Neitznot > Berserker helmet > Rune Full helm > Void melee helmet |
| Body | Torva platebody > Bandos chestplate > Fighter torso > Rune Platebody > Void knight top |
| Legs | Torva platelegs > Bandos tassets > Rune Platelegs > Void knight robe |
| Weapon | Chaotic Longsword/Chaotic Rapier/Chaotic Maul > Abyssal whip > Dragon scimitar |
| Off-hand | Divine/Elysian spirit shield > Chaotic shield > Dragonfire shield > Dragon defender > Void knight deflector |
| Gloves | Gloves (Goliaths) > Gloves (Barrows) > Void knight gloves |
| Boots | Steadfest boots > Dragon boots > Climbing boots |
| Amulet | Saradomin's Whisper > Amulet of fury > Amulet of Glory |
| Ring |  Berserkering ring (imbued or regular) > Ring of wealth |
| Cape | Completionist cape > Max cape >Kiln Cape> Fire cape |
| Ammunition | None |
You will want to be able to survive for a couple of kills to make the trip worthwhile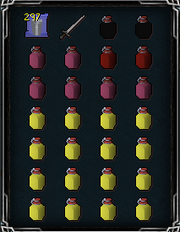 The best inventory one can bring is:
2 Overload & prayer renewal flasks
4-6 Super restore flasks
12-16 Saradomin brew flasks
Steel of legend scrolls and an enhanced Excalibur for its healing special attack
A teleport out, for example the "Teleport to house" or the ring of wealth's teleport to get out.
Steel titan rather than a yak as dealing damage can be more beneficial.
Stat recomendations
Edit
Recommended
Edit
80+ Hitpoints
80+ Attack
80+ Strength
80+ Defence
95+ Prayer 
80+ Dungeoneering 
99 Summoning 
60+ Attack
60+ Strength
70+ Defence
43+ Prayer (this is an absolute must.)
The first thing you want to do when you get into the room is to quickly kill General Graardor This is because killing him first racks in more kills in the long run, since as soon as you kill all the minions, General Graardor will spawn again.
*MAKE SURE YOU TURN YOUR PROTECTION PRAYERS BACK ON OR YOU WILL DIE IN A MATTER OF SECONDS*


After Graador has been taken care of, get on Sergeant Steelwill and kill him. The best way to go on with the minions is to turn on "Soulsplit" and to try to heal as much as you can off the minions before Graador respawns.
After Sergeant Steelwill, go onto the ranging minion, Sergeant Grimspike . He should be no problem, as you should have good range defence, so just heal of him.
After Sergeant Grimspike is taken care of, continue on to the meleer, Sergeant Strongstack, keep "Soulsplit" on and just heal on him like the other minions.
100% DropEdit
| Item | Quantity | Rarity |
| --- | --- | --- |
| Ourg bones (general Graardor) | 1 | Always |
| Item | Quantity | Rarity |
| --- | --- | --- |
| Rune pickaxe | 1 | Common |
| Rune Longsword | 1 | Uncommon |
| Rune 2h sword | 1 | Uncommon |
| Item | Quantity | Rarity |
| --- | --- | --- |
| Rune platebody | 1 | Common |
| Bandos chestplate | 1 | Rare |
| Bandos tassets | 1 | Rare |
| Bandos boots | 1 | Rare |
| Bandos gloves | 1 | Rare |
| Bandos warshield | 1 | Rare |
| Bandos helmet | 1 | Rare |
| Item | Quantity | Rarity |
| --- | --- | --- |
| Nature rune | 125 | Common |
Gems and OresEdit
| Item | Guantity | Rarity |
| --- | --- | --- |
| Adamantite ore | 10 | Common |
| Coal | 175 | Common |
| Item | Quantity | Rarity |
| --- | --- | --- |
| Coins | 99,510-105,000 | Common |
| Snapdragon seed | 1 | Common |
| Femur bon | 1 | Common |
| Magic logs | 75-100 | Uncommon |
| Grimy snapdragon | 15 (noted) | Uncommon |
| Super restore (4) | 15 | Uncommon |
| Longbone | 1 | Uncommon |
| Curved bone | 1 | Uncommon |
| Godsword shard 1 | 1 | Rare |
| Godsword shard 2 | 1 | Rare |
| Godsword shard 3 | 1 | Rare |
| Bandos hilt | 1 | Rare |
| Clue scroll (hard) | 1 | Rare |
| Clue scroll (elite) | 1 | Rare |
| Starved ancient effigy | 1 | Rare |
| Spin ticket | 1 | Rare |
| The glory of general graador | 1 | Rare |